About Us
Company Introduction
HONJ Machinery is affiliated to WUXI HONJ MATERIAL CO., LTD., which specializes in making H beam steel production line. Our products mainly include welding machine, box beam production line, welding manipulator, welding rotator, CNC cutting machine, H beam assembly machine as well as plate edge milling machine. Our products are broadly used in pressure container, petrochemical, power plant, heavy machinery, shipbuilding and steel structure manufacturing industry.
Our H beam steel production line, welding machine and welding rotator are developed and manufactured basing on learning foreign advanced technologies. And they have obtained certificates of CE and Product Patent.
We supply high quality H beam steel production line and welding manipulator with favorable price. Our company provides responsible and comprehensive customer services and OEM service as well. Our goal is to maximize our clients' satisfaction.
If you have interest in our H beam steel production line and welding machine, please visit our website or contact us directly. We are looking forward to your inquiry and visiting.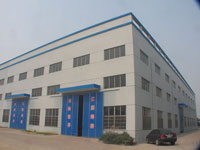 Main Products
1. Steel Structure Production Equipment: Cutting Machine, H Beam Assembly Machine, Gantry Automatic Welder, H Beam Flange Straightening Machine and Hydraulic Straightening Machine.
2. H Beam Steel Production Line: H Beam Assembly Welding Straightening Machine, H Beam Cantilever Automatic Welder, Plate Conveying Machine and Overturning Machine.
3. Welding Positioner Series: Standard Welding Positioner, Head and Tail Stock Welding Positioner, Welding Turntable, Hydraulic Elevating Welding Positioner, Custom Welding Positioner, and Head and Tail Stock Lifting Welding Positioner.
4. Welding Rotator Series: Self-aligned Welding Rotator, Adjustable Welding Turning Roll, Anti-Drift Turning Roll, Flange Welding Rotator, etc.
5. Welding Machine Auxiliary Equipment: Inner Longitudinal Seam Welder, Face Milling Machine, Cantilever Welding Platform, Multi-head Strip Cutting Machine, Plate Edge Milling Machine, Chamfering Machine, Shot Blasting Machine, etc.
Our Advantages
1. Quality Advantage
a. We employ outsourcing supervision and sampling inspection to control the quality of H beam steel production and welding manipulator.
b. Our products have passed CE certification.
2. Manufacturing Experience
Our company was founded in 2009, but we have about 10 years manufacturing experience of H beam steel production line and welding machine. Our employees have received professional training. What's more, we also set up a strict and comprehensive management system to ensure quality.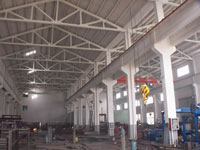 3. International Market
Our H beam steel production line and welding machine are well received across the world.
a. American Market: the USA, Canada, Mexico, Brazil, Chile
b. European Market: Russia, Italy
c. Oceanian Market: Australia, New Zealand
d. Asian Market: Japan, India, Singapore, Malaysia, Indonesia, Iran, UAE, etc.
4. Pre-sale Services
We provide clients with responsible pre-sale services including technical consulting, equipment layout and technical solutions.
5. In-sale Services
In-sale services mainly include training, equipment free hoisting and colligating, etc.
6. After-sale Services
We offer installation, debugging and technical training. Besides, within the guarantee period of 12 months, our company will provide technical consulting and advice about H beam steel production line.
7. Others
OEM service is also available. We also offer customization service.

Related Products
Fit-up Welding RotatorThe fit-up welding rotator is mainly employed to weld long pipes, such as wind tower. Such welding turning roller uses four independent rollers for assemblage. It is usually used with passive roller. The maximum load capacity varies from model to model (3t to 650t). It adopts AC variable frequency stepless regulation or electromagnetic regulation...