Welding Fume Extractor
Introduction
YS-CC(Y) impulse welding fume extractors are used to collect fume in welding and cutting treatments and collect dusts in milling and polishing treatments. They are environment-friendly, meeting demands of improving working conditions. HONJ is a professional China weld fume collector manufacturer. We apply strict standards in production of welding fume collectors.
Features
1. Core filters of YS-CC(Y) welding fume extractors are made from anti-flaming macromolecule materials. Besides, anion-exchange purifiers are applied to optimize fume extraction.
2. We provide multiple fume extractors which are available in various applications, including fume collection in plasma cutting machines, central fume extraction in welding workshops, dedusting system in large-scale workshops, etc.
Structure Diagram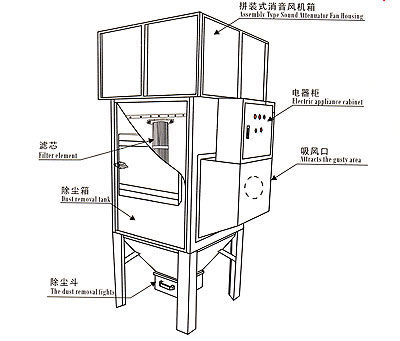 Parameters of Welding Fume Extractors
| | |
| --- | --- |
| Model No. | YS-CY12035 |
| Air Rate | 800 m3/h |
| Working Voltage | AC380 V / 220 V |
| Interface Diameter of Air Horse | ф175 |
| Filter Cartridge Size | ф150 × 900 |
| Import Air Source | ≥ 0.15 m3/min ≤ 0.8 MPa |
| Quantity of Filter Cartridge | 5 |
| Total Pressure | ≤ 3580 Pa |
| Impulse Controlling Way | Automatic Timing Control |
| Interface of Air Source | ф8 PU Straight Tube |
| Machine Dimension | 980 × 1000 × 2150 |
| Machine Weight | |
Welding fume extractors manufactured by HONJ are widely sold at home and abroad. Our foreign clients are from America, Canada, Russia, Italy, Australia, New Zealand, Malaysia, Indonesia, Japan, etc. HohJ is not only a professional China weld fume collector manufacturer, it is also manufacturer of many other welding equipments. Our products are widely utilized in power stations, ship manufacturing, structural steel constructions, petrochemical engineering, and so on.
Related Products
Solder Separation MachineYS-DZFC solder dross separator machines are used to filtrate the surplus soldering flux in submerged arc welding. With these flux magnetic separators, metallic powders and flux can be separated. YS-DZFC flux filtrating machines are with high performance cost ratio, because they combine multiple functions together, including filtration, magnetic separation and classification. Besides, they apply double vibrating machines ...