Overturning and Conveying Equipment
Introduction
To reduce the operating frequency and improve efficiency, we configure H beam production line with hydraulic overturning machine, H beam conveying machine and turnover bracket. These help to achieve automatic transference and turnover during the process of welding and straightening.
1. YZJ20 H Beam Conveying Machine
Specification
| | |
| --- | --- |
| Lifting Weight (t/set) | 20 |
| Lifting Stroke (mm) | 80 |
| Pressure (MPa) | 16 |
| Diameter of Oil Cylinder (mm) | 80 × 2 |
| Moving Motor Power (Kw) | 1. 5 |
| Speed (m/min.) | ≈ 5 |
| Track Center Distance (mm) | 700 |
Features
1. H Beam conveying machine is constituted by mainframe, hydraulic system and electronic control system. The mainframe is structured by lifting support, active traveling rack, passive traveling rack and moving motor reducer.
2. During working, the rack of this machine lifts work-piece from roller way through the synchronous integral lifting of two cylinders. That can avoid low stability of single cylinder intersection structure. H beam conveying machine is able to move work piece back and forth with the help of moving motor reducer. Tank towing chain is adopted to tow oil pipe and cable. Electronic control system is under control of cantilever welding machine, making operation simple. What's more the machine is safe, reliable and compact-structured.
2. 60° Hydraulic Overturning Machine
Parameters
| | |
| --- | --- |
| Angle | 0-60° |
| Work piece Weight (t/set) | 20 |
| Diameter of Oil Cylinder (mm) | 125 |
| Pressure (MPa) | 16 |
Features
60° hydraulic overturning machine consists of a rack, L frame, hydraulic cylinder and synchronous link rod. Every 6 L frames make up one set which is driven to turn over by three cylinders and synchronous link rod. The tilting angle can be set or adjusted through stroke switch and will display on the dial.
3. Beam Overturning Machine
It includes mobile 90° and 180° hydraulic overturning machine.
Procedures of H Beam Hydraulic Overturning Machine
90°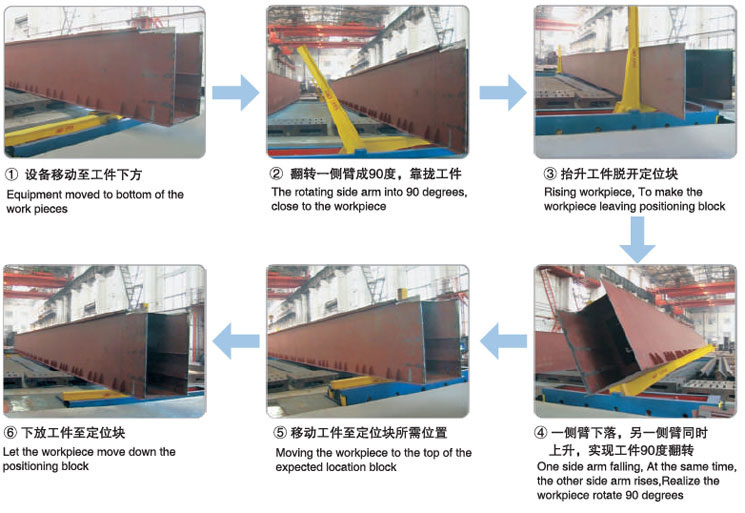 1. Move the machine and put it right under the work-piece
2. Turn a side arm about 90°
3. Pick up work-piece and loosen positioning board
4. Descend the side arm
5. Move the work-piece to the positioning block
6. Lower it onto positioning block
180°
180° turnover of work piece can be achieved through twice 90° turnovers.
Related Products
H Beam Welding MachineH beam assembly welding straightening machine is efficient equipment which allows H beam assemblage, submerged arc welding and flange plate deformation straightening to be conducted simultaneously. Beyond that, such H beam welding machine takes up less space and reduces the transference from one machine to another. Thus, working efficiency has improved largely. Thirdly, the machine is high technological,...